Driving Safety Home!
Our "At School" initiatives, sponsored by the Greenville Drive, brings safety to our children through the following Safety Patrol and Pedestrian Safety Programs.
Safety Patrols
The Safety Patrol Program is one of Safe Kids Upstate's most prominent programs. Safe Kids Upstate provides materials to train Safety Patrols at elementary schools in Greenville, Pickens, and Oconee Counties. In addition to training School Safety Leaders, Safe Kids Upstate provides equipment to each school and assists with the development of safe and efficient carpool lines. Equipment distributed includes: vests, training manuals, pledge cards, merit pins, and certificates of merit.
This school year the Safety Patrols will aim to reduce the amount of distracted drivers on our roads. You can help by taking the pledge to not drive distracted. Click here to learn about distracted driving facts and take the pledge today!
See below to view Summit Drive's Safety Patrol getting ready for their day.
Pedestrian Safety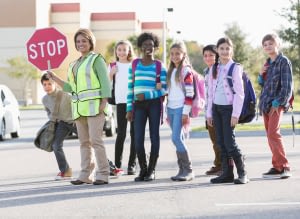 Teaching children about pedestrian safety is an important component of childhood injury prevention. Statistics show that the highest number of child pedestrian injuries occur during the start and end of the school year, as well as around Halloween. By encouraging and reinforcing pedestrian safety skills, you are not only showing students that walking is an effective, easy form of exercise, but you also are equipping them with knowledge of an important life skill. Safe Kids Upstate has resources available to help you plan both a healthy and SAFE event and/or lesson. Below are some links to videos and the National Highway Traffic Safety Administration's pedestrian safety skill curriculum (lots of great co-curricular lessons!).
Watch Pedestrian Safety Videos
View the NHTSA Pedestrian Safety Curriculum
Top Tips
Talk to your kids about how to be safe while walking. It's always best to walk on sidewalks or paths and cross at street corners, using traffic signals and crosswalks.
Teach kids at an early age to put down their devices and then look left, right and left again when crossing the street.
Children under 10 should cross the street with an adult. Every child is different, but developmentally, it can be hard for kids to judge speed and distance of cars until age 10.
Remind kids to make eye contact with drivers before crossing the street and to watch out for cars that are turning or backing up.
When driving, be especially alert in residential neighborhoods and school zones and be on the lookout for bikers, walkers or runners who may be distracted or may step into the street unexpectedly.
Safe Schools Leaders, click here to access your Safe Schools Portal!