Buddy's Home Safety House
Buddy's Safety House is Safe Kids Upstate's award-winning mobile home safety exhibit. Developed in 1998 by the Development Council of GHS Children's Hospital, this innovative safety education tool helps prevent unintentional injuries, the leading cause of death among children ages 0 to 19. If you are interested in using Buddy's House Curriculum at your school to educate students around Home Safety, click here to learn more and complete an event request.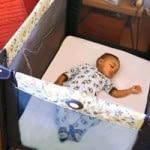 Upstate Cribs for Kids
Upstate Cribs for Kids is a safe sleep education program by GHS Children's Hospital Infant Apnea Program and Safe Kids Upstate. The program aims to reduce the number of infant deaths due to unsafe sleep practices. Many families who lack education about safe sleep put their babies at great risk of suffocation, falls, or entrapment. The Cribs for Kids program is bringing safe sleep education, and (if needed) play yards to eligible families who need a safe sleeping environment for their children. Click here to access a crib/become a partner/learn more about the program.
Home Safety
There are many steps you can take to make your home safe for you and your family. Safe Kids Upstate recommends that your reevaluate your home for safety hazards at each stage of your child's growth and development. Our Home Safety Program provides inspection tips and resources to the local community through our social media sites and community events. Click here to access our Home Safety Tips.